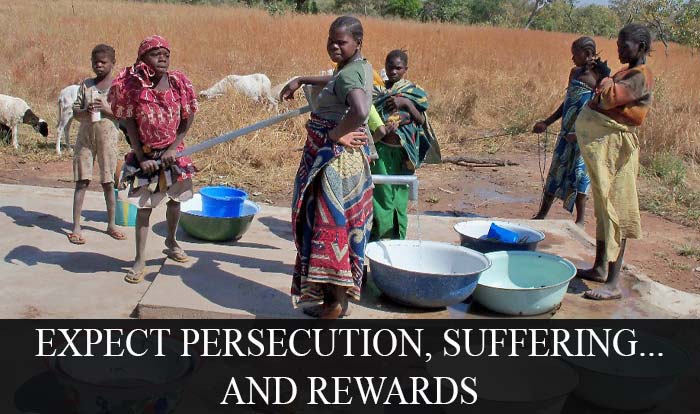 If you are a Christian, expect persecution and suffering. It comes with the territory. But there are also rewards if we persevere in our faith.
In Matthew 5:10-12 (NIV), Jesus spells it out: "Blessed are those who are persecuted because of righteousness, for theirs is the kingdom of heaven. Blessed are you when people insult you, persecute you and falsely say all kinds of evil against you because of me. Rejoice and be glad, because great is your reward in heaven, for in the same way they persecuted the prophets who were before you."
There are stories of Christians in various regions of the world who are suffering because of their faith or just suffering because of the poverty and situations they live in. For instance, Christians in Southeast Asia suffer much persecution simply because of their faith. Authorities in Vietnam and Laos often imprison Christians on false charges, separating them from their families. Some Christians are denied access to wells because of their faith, and have to look for other sources of clean water. Others are forced to leave their homes and villages unless they convert to another faith. But despite their suffering, most of these Christians are staying strong in their faith—even when it means risking their lives.
Suffering for one's faith does not go on forever. After centuries of being a Hindu kingdom that persecuted Christians, Nepal is now changing in amazing ways. Christians are finding increasing freedom and the church is growing rapidly. Although there were just a few dozen Christians in Nepal 50 years ago, today there are many thousands.
Victorious in Christ
Eventually, whether in this life or the next, Christians will be victorious in Christ. That was the theme of Canada's 2011 International Day of Prayer for the Persecuted Church, which several Christian agencies helped to plan. I wrote a song that year to tie in with IDOP. Here is a verse that I hope will resonate with you as you consider and pray for persecuted Christians:
When we're persecuted by our foes,
We should trust in God through every woe.
God will rescue us in times of fear,
Speaking words of comfort we should hear.
We can be victorious in Christ,
Trusting Him who paid the greatest price.
Who are those who overcome the world?
Only those who trust in Jesus Christ.
Sometimes trials can be a great discouragement for Christians. For example, one summer a leader in Nigeria was robbed by bandits. "The devil has done it again," he reported. "This time on our way from Fulani fields where we were teaching and showing films with already 18 converts, we were stopped by robbers and they took away everything from us. The following things went with the armed robbers, who almost killed us: Cameras, a projector, phones, a laptop and some valuable material all worth more than $3,000." The leader [name protected for security reasons] and his colleagues had just seen a major spiritual victory, but then were stopped in their tracks by the bandits. Yet they are not letting that setback slow them down from the work God has called them to do. Let's not be discouraged when suffering and trials come our way.
Suffering is never enjoyable, but suffering for our faith will bring good results. In Romans 5:3-4 (NIV), Paul writes: "we also glory in our sufferings, because we know that suffering produces perseverance; perseverance, character; and character, hope."
Christians in Canada do not tend to suffer for their faith as much as our sisters and brothers in certain other countries—such as Nigeria. Let's take advantage of the freedom we have to pray for suffering and persecuted Christians including indigenous missionaries, help them financially, and advocate for them to ours and other governments, when appropriate. Let's be faithful to the One who is faithful to us all.